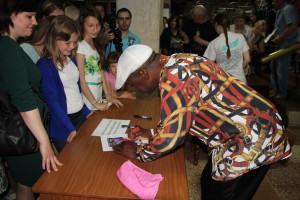 "An extraordinary musician on the extraordinary scene American guitarist and showman Alvon Johnson musical star of this year's "Rudder at Bydgoszcz." On the floating stage hypnotized his music listeners gathered in the amphitheater at the Opera Nova."
Bernard, Martyna i Walerian – Bydgoszc /Miasto
"WOW!!! What fantastic Christmas Eve I was blessed to enjoy!! Got to see Mr. Excitement of the bay area, Alvon Johnson, doin' his thizzle as only he can!"
Kimberly Jackson – Facebook
"Yesterday Alvon Johnson tore down a whole room of very accomplished musicians. This brother really should be a superstar! That's what I think!!!!!"
Rhonda Benin – Facebook
Alvon's voice is silky and soulful with a classic "old blues man" timbre. Yet his style is all his own. Yet his style is all his own. He slips in a slight raspy growl here and there yet tails off on his phrases with a little vibrato that shows a real "class" in his style.
Review by LenCat

"If you have ever seen and heard Alvon, then you know his singing and playing his guitar can send you into ecstasy with his soft, soothing sexy voice and then turn you into a wild woman with his magnificent guitar playing and body movements. This is a true showman, and he gives his all in all of his performances. If you have not been to one of his shows, you owe yourself this one pleasurable evening with a man that can change your life in just one night."
Biscuits and Blues – Biscuits and Blues
"April 25 was a concert representative of traditional jazz with American guitarist and singer Alvona Johnson. From the very beginning he conquered the audience with his artistry, virtuoso performances and genuine openness. A full house at the Philharmonic Hall was speaking only of the fact that it was a real feast for the senses."
Анастасия Рожкова – newbur.ru
"The American 'bluesman' Alvon Johnson dazzled the audience at the first concert of the Jazz Festival XII."
La Tribuna de Toledo
His talent as a young man was evident, and singing and playing guitar for a living was an obvious career path.
All About Jazz
We had a lucky chance to enjoy the sounds of a treasured source. The dark-skinned Americans for several years giving concerts in Russia, acted not only in the European part of it, but also far beyond the Urals. He heard Kemerovo, Angarsk, Rostov-on-Don, Moscow and so on. D. He '63 (though they do not give charming man) came to Kyzyl from Stavropol, from us went to Irkutsk, then – to Moscow!                                            Blues-man turned out to be a joker and excellent artist with a cat movements, and easy to move around the stage and in the hall. Someone managed to take a photo with him, others – to shake his hand.Not without hopping on one leg – a tribute to tradition. Expressive eyes, facial expressions, dazzling white teeth smile, gestures, short phrases that were translated by well known musician Sayan Bapa.Even the outfit laid out in detail: guitar, shimmering silver, with the inscription «Alvon», on shoes and a dark jacket sleeves – too shiny silver.
He conquered the Guest with undeniably beautiful music. Sang (such as voice and especially outstanding, but here takes the soul) and played known compositions and those that we hardly know each other. Hall if hear recognizable music, react vigorously and applauded. Even singing guitarist. We rejoice hearing works from the repertoire of Duke Ellington or Frank Sinatra. Moreover, they were submitted to individual interpretation of the musician.
Emotions "hit" over the edge. And in the hall – a spark, and how – for 1000 volts! The gallery, traditional, shouting louder than the others. Guest managed to raise all ranks dance. Started!
But we have visited and the night star, a fairy tale that has become a reality thanks to ALVONA Johnson and our band.